MilesWeb Windows Hosting Review: Should Your Consider Then for Your ASP.NET Website?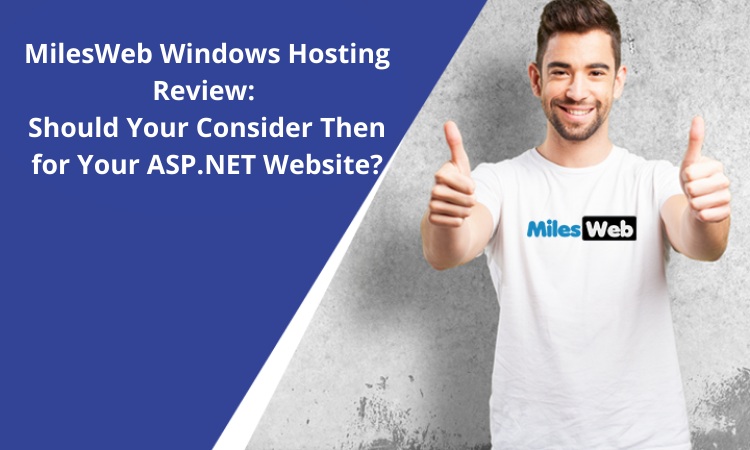 A Windows-driven hosting solution can offer you key benefits if your website is based on ASP and .NET or you are using Microsoft Exchange. But prior to learning more about Windows hosting, I would like to clear one point here and that is "is Windows PC or laptop required to host your website on Windows server?" 
The answer is no, it isn't obligatory to have a Windows PC if you want to host your website on a Windows server. Basically, web hosting doesn't at all depend on what is the setup at your home or your workplace.
Why Select Windows Hosting?
Most of the websites in the world are hosted on Linux servers. Thanks to this great operating system which can be used for general purposes. When it comes to Windows, specific applications and technologies are needed and it can't be used for general work. 
Windows hosting offers you the below benefits:
Supports all technologies available for Linux:

Are you planning to develop websites with any Microsoft-specific technology? Then it is a must to select Windows hosting. For example, ASP.NET, SQL Server, and Active Directory are the programs that work with Windows only. Additionally, it is very easy to develop .NET websites on Windows with the free version of Visual Studio. Several big organizations that are worried with security choose to develop in .NET as it is supported by a large corporation.  Apart from supporting all the Windows programs, it is possible to install PHP, MySQL, WordPress, and other open-source platforms on any Windows server as well. Due to this, Windows has become a multipurpose platform as it supports several programming languages and databases available.

Easy to configure for newbies:

For example, it can be difficult to configure DNS servers with Linux. High tech knowledge is required to edit BIND configuration files. With Windows, You can easily create your own DNS server with Windows. Also, it can be a challenging task to install and edit Apache configuration files on Linux. With Windows, you get a graphical interface for managing its web server environment, IIS. Users can create a new virtual host intuitively by simply going into IIS Manager and adding a new site. Hence, new website admins can get significantly easier administration methods with Windows.

High Security:

Security is a major concern for many. Windows is developed and supported by one of the largest corporations. Therefore, security patches are available for free and frequently. You can easily update your Windows server similar to updating your desktop computer. Just go to Windows Update and search for any downloads that are available. The only disadvantage of Windows is that many times these updates need restarts. But, you have very small moments of downtime when you restart your server. 
So, after understanding the benefits of Windows hosting, let's take a look at the best Windows hosting provider of India.
About MilesWeb
MilesWeb was started in 2012 and aims at offering faster and affordable web hosting services to the customers. Today, they top as one of the best web hosting providers in the world. Shared, dedicated, WHMCS reseller hosting, VPS, WordPress and cloud hosting are the list of web hosting services they offer. Since they offer complete managed solutions their customers can focus on their business growth rather than monitoring the servers or installing updates on them.
If you are facing any query, you can contact their customer support team at any time. They can be reached via live chat and emails. Your website always remains up and running as they offer an uptime of 99.95%. Additionally, you also get 30 days money back guarantee, if you aren't satisfied with their service.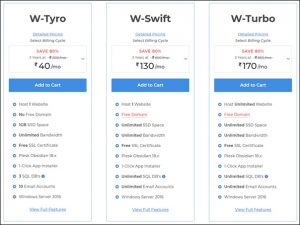 Features
Free Domain Registration: Worried about spending money on registering a domain name? Forget it as MilesWeb offers you a free domain with its W-Swift and W-Turbo plans. They offer you a free .com or .in domain and you can get your website launched instantly.
Free Website Migration: Website migration has been made easy by MilesWeb. Your website will be migrated without paying anything extra and with all the data securely from your current web host to their servers. Due to this you save your pockets from burning.
SSD Drive: SSDs help to accelerate you website's performance. MilesWeb includes SSDs in their hosting plans. Your website's data is stored at a faster rate with SSDs, offering you blazing fast speed.
Plesk Control Panel: Plesk makes it easy for you to manage your web hosting account offered with Windows hosting. You can manage your domain, website, emails and databases using the Plesk control panel.
1-Click Installer: The one-click installer, Softaculous, makes it effortless to install apps. Users can thus, save their time as well as efforts needed to download and install the apps on the server. MilesWeb offers over 400 applications such as Joomla, Magento, WordPress and so on.
Secure Email: It is possible to access emails from any web browser on Windows, Mac or any mobile devices securely. You get the support for emails protocols such as POP3/ IMAP/ SMTP to send and receive emails.
Programming and Database: Different programming languages are offered with their Windows shared hosting plans. These include PHP, GD Library, ASP/ASP.NET 3.5 and 4.6, SSICurl, MVC, AJAX, MySQL, and MS SQL 2012 Express.
Instant Account Setup: There is no need to wait for long to get your account setup unlike other providers. MilesWeb's team sets up your account instantly once your payment is verified. It is possible to launch your website in just few hours.
You can also take the benefits of the below web hosting addons offered by MilesWeb:
Google Webmaster at Rs.975 one time

Analytics Integration at Rs.975 one time

Website Backup at Rs.99/mo

SiteLock Basic at Rs.1,625/yr

SpamExperts at Rs.195/mo
Bottom Line
The Windows hosting plans offered by MilesWeb are affordable as well as offer plenty of resources to run your ASP.NET website. So, think no more and signup for their Windows hosting plans, and start with your website instantly.