Is Traditional Marketing Dead?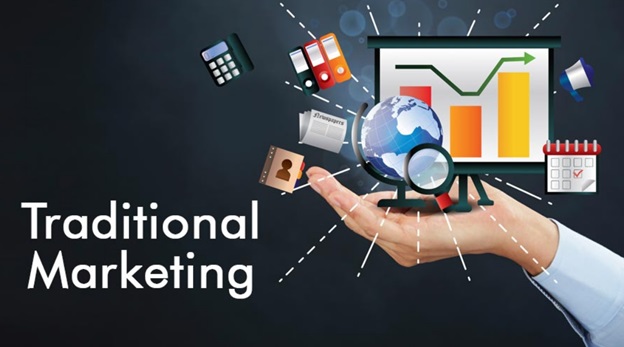 Will there come a time when digital marketing is referred to as traditional marketing?  Given the ever-expanding global reach of online marketing, it would come as no surprise if it reaches "conventional" status. For now, though, digital marketing is not traditional marketing. Digital is still seen as new, cutting-edge and more in sync with the behaviours and activities of the modern consumer.
As of right now, traditional marketing is basically defined as any type of marketing that isn't carried out online, such as print, TV, radio, direct mail, and outdoor advertising like billboards. The challenge when marketing on these platforms is the survival of the platforms themselves. For example, newspaper subscription rates have been on an accelerating decline for the best part of two decades. A report by accounting giant Price Waterhouse Cooper predicts that global newspaper advertising will fall from $49.2 billion in 2019 to $36 billion in 2024, a decline of more than a quarter (27%) over five years. This is in line with a forecast slump in global circulation and subscriber revenue, from $58.7 billion in 2019 to $50.4 billion in 2024. If people no longer buy newspapers, why promote your business there? That's a challenge facing all traditional marketing platforms as the world continues to carry out more of their everyday lives online.
Statistics on the most popular internet activities confirm this. One recent survey revealed:
92% of respondents go online to send or read emails.
89% use a search engine to find information
81% research a product or service before buying
80% check the weather
73% get news
71% buy a product
64% make a travel booking
And so on, and so on, and so on. If the world is going digital then it makes sense that global marketers are going digital too. It's not just about the numbers. There are other reasons why digital marketing is superseding traditional marketing, and here are just a few of them:
Worldwide reach – a website allows a business to find new markets and trade globally for a relatively small cost when compared to traditional marketing methods.
Lower cost – a targeted digital marketing campaign can reach the right customers at a substantially lower cost than traditional promotional methods.
Trackable and measurable results – data, web analytics and other online metric tools give a profound insight into how effective a digital marketing campaign has been. It's far easier to collect this vital information online than it is in the aftermath of a traditional campaign.
A personal connection – when a customer database is linked to a website, then it is a simple process to reach out to prospects with targeted offers. The more they buy, the more the customer profile can be refined for even more effective marketing.
Social currency – this term refers to the influence on social networks and online communities, and the level to which a business is shared by others. Obviously traditional marketing isn't even in the race in this regard, with digital marketing being able to create campaigns using content marketing tactics such as videos, images and articles. The better the content, the more social currency a campaign gains and this will see it being passed from user to user and reaching that desired goal: going viral.
Higher conversion rates – digital marketing provides an instant and seamless shopping experience. Customers are just a few clicks from making a purchase, unlike other media which require people to go through a slower and more involved process. Because people can "buy now", conversion rates with digital marketing are far higher.
Given all of these benefits, this online marketing company in Auckland has every right to ask if traditional marketing is dead. It might not be…yet. But there's no doubt that old fashioned marketing strategies like in-store sales packages and door-to-door marketing are no longer what the consumer wants. The rise of digital marketing coincides with the global appetite for doing virtually everything online, and for this reason alone it is easy to see why modern consumers respond better to digital marketing strategies.