IT Maintenance Services for Healthcare Institutions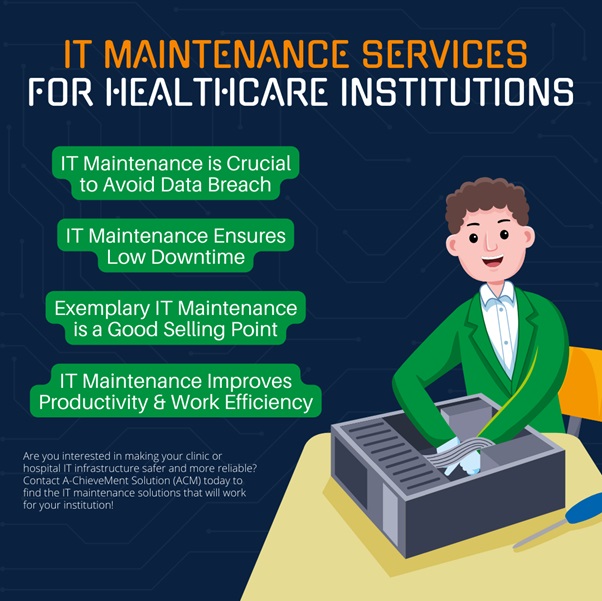 IT maintenance in Singapore is one of the crucial aspects for corporate companies and organisations today. With forward steps toward digitalisation comes the efficiency of most workloads while minimising downtimes. For instance, automated registration for clinics and hospitals will allow for faster line and emergency response. However, it will only be possible through routine IT maintenance services.
Today, we will share insights on how IT maintenance in Singapore can help the healthcare industry. You will also learn why it is important for clinic and hospital directors to consider getting IT maintenance services regularly.
IT Maintenance is Crucial to Avoid Data Breach
The horrors of medical records being exposed publicly due to data breaches are not new to us. Good thing that IT maintenance services can prevent that. Singapore IT maintenance is necessary to protect your patients' records from unauthorised access. Since Singapore is among the countries often targeted by cyber attackers, you would want to keep your website and databases secure as much as possible.
IT Maintenance Ensures Low Downtime
Downtimes are irritating to your patients. Who wants to drive early to the hospital only to find that the system is down and their requested documents cannot be released? This is preventable with routine IT maintenance Singapore. Since your IT infrastructure will be maintained regularly, there will be less chance of emergency troubleshooting which can be very costly.
Exemplary IT Maintenance is a Good Selling Point
People nowadays are concerned about their privacy, especially when it comes to virtual information. You may gain the trust of your patients if they will see how well you are handling their personal information. Moreover, fast and efficient services brought by regular IT maintenance services will easily catch people's interest.
IT Maintenance Improves Productivity & Work Efficiency
More often than not, it is the nurses that are using the IT system to input the patients' information and record their conditions. Nurses are already overloaded with healthcare duties. A malfunctioning IT system will make their job even more difficult. Thus, investing in routine IT maintenance can help boost work efficiency and the morale of your employees.
IT Maintenance Allows You to Dispose of Outdated Data Responsibly
Outdated data may be piling up in your database and can cause your system to slow down. However, it is not safe to merely delete them or move them to cloud storage. The best way to dispose of these outdated data is to get reliable IT maintenance services that include clean-up.
Are you interested in making your clinic or hospital IT infrastructure safer and more reliable? Contact A-ChieveMent Solution (ACM) today to find the IT maintenance solutions that will work for your institution!