Outsourcing Your Staffing Process: Pros and Cons.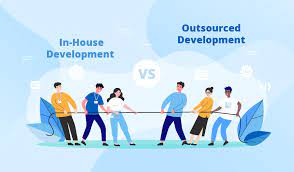 Setting up and running a company requires careful attention to a wide range of factors. Human resources availability is a critical consideration. After all, your employees are the lifeblood of your company, and they are all essential to its continued success.
One of the hardest parts of owning a small company is recruiting and maintaining talented employees. A staffing agency's help might come in handy at this point. A reliable staffing firm can help you identify the best person for the position since they know of many qualified people who are looking for employment. In addition, they may provide guidance on reasonable salary ranges and benefits packages. And they could even manage the preliminary screening process for you, employing recruiting tools, saving you time and energy. Therefore, if you want to expand your business, you should consider partnering with a staffing agency. Find the right people to help you grow your business to the next level.
If you're a startup in today's competitive industry, you may be considering outsourcing your recruiting efforts so that you can respond quickly to changes in the labor market. One of your primary choices is an RPO, but you can also use elastic recruiting.
What Does an RPO Do?
Recruitment process outsourcing (RPO) is a common method for handling your business's recruiting and other human resources tasks. Having access to a third party that manages some or all of your hiring is one of the benefits of using an RPO. Recruitment process outsourcing (RPO) is a traditional kind of outsourcing in which the client organization has a negligible role in the process of acquiring new employees. Therefore, the regular price model is used for RPO. Fixed and extra expenses will be applied in addition to the usual fees. Companies with hundreds of open positions often employ RPOs.
What is Elastic Recruiting?
With Comeet's Elastic Recruiting, a mix of in-house and outsourced services, you can decide how involved you want to be in the hiring process and how much control you want over the recruiting software. When it comes to hiring, Elastic Recruiting is a hybrid in-house/outsourced strategy. Elastic Recruiting is powered by Comeet's hiring technology and is overseen by a remote staff of highly skilled recruiting professionals. The service may be expanded or contracted in order to suit your evolving human resource needs. Therefore, your monthly costs may change based on your hiring strategy and the amount of money you allocate to finding new employees. Small and medium-sized businesses (especially those with fewer than 500 employees) might benefit from elastic hiring since it helps them respond to fluctuating requests for workers.
The Case for Elastic Recruiting Software
In contrast to Elastic Recruiting, where participants work together to hire, RPO collaboration often entails individuals doing tasks individually. Comeet is a platform that promotes and allows enhanced communication between employers, applicants, and HR departments. In addition, it's great for distributed teams and freelancers who are separated by a great distance.
Data for statistical analysis is managed and made accessible on-demand by your outsourced RPO. Since this is possible, little bits of data may be sent on the fly. Elastic Recruiting, on the other hand, provides a central hub where you can access information about all of your past hires as well as related resources.
RPO Pricing
Most RPOs charge clients two different kinds of fees: a flat performance fee and a recurring membership charge. Both of these costs will be borne by members.
Your RPO membership fee is often established at the outset of your agreement based on your anticipated increase in headcount. A set monthly fee not only simplifies budgeting but also ensures payment is made even if the service is not used as often as desired. In contrast, if your volume surpasses your estimates, your monthly price will almost certainly go up.
After a candidate has been hired and accepted, RPOs will charge a performance fee. The cost may be adjusted at any time. It may, for instance, depend on the yearly salary of each worker hired or the terms of each offer issued.
When it comes to administrative, sourcing, or "other" tasks like reference checking, some RPOs may charge you extra on top of their regular rate.
Adaptive Staffing Pricing
Since you'll be expected to pay both a performance charge and a membership fee each month, the price model is somewhat dissimilar from that of an RPO. Elastic Recruiting may help your business save up to 60% of the cost of using an RPO. Maybe you're baffled as to how this is even a possibility. There are several fundamentals that must be understood first.
Pay-for-performance rates are lower than the norm for outsourcing human resource functions. The total price for an RPO service might be difficult to pin down because of all the hidden fees and add-ons. Many organizations choose management fees or management fees with cost-per-hire models; however, transactional, slate and hiring-based RPO costs are also common. There are a number of other RPO pricing structures, such as the hire/fire, slate, and hire/fire models. We charge between 6% and 10% of the total time spent sourcing candidates as a simple success fee for using Elastic Recruiting.
The charges will vary from month to month since they are based on the needs of your business. For the first 60 days of the working relationship, Elastic Recruiting will reimburse the whole performance fee if the recruiting process does not succeed.
Benefits of a Recruitment Team
Finding and assessing applicants when you need to fill a job in your business may be a difficult and time-consuming process. There's a good chance you won't be able to handle everything on your own, so it's a good idea to consult a recruiting team for assistance. Expert recruiters can help you find candidates who suit your needs, arrange interviews with them, and ultimately make the best decision for your company.
There is a big pool of eligible applicants available to recruiting teams. Professional recruiters have access to much more qualified candidates than the average person does. They may be able to assist you in identifying the ideal individual for future positions even if you aren't currently searching for a job.
Final Thoughts
Multiple awards have been given to the Comeet recruitment platform, demonstrating its superiority. Elastic Recruiting is offering a free Comeet Platform yearly membership, a service that would ordinarily cost thousands of dollars, to every new user who signs up to become a customer. Workflows, calendars, and up-to-date information about prospective employees are just some of the tools made available to site visitors. Since the software lessens the stress and aggravation that come with the recruiting process, the work quality of your team will improve. The group is dedicated to helping you succeed. Feel free to reach out to us at www.comeet.com for any help or inquiries you may need. They'll work with you to design a plan that will improve things for everyone involved.