Press Release Distribution Services: The 7 BEST for 2020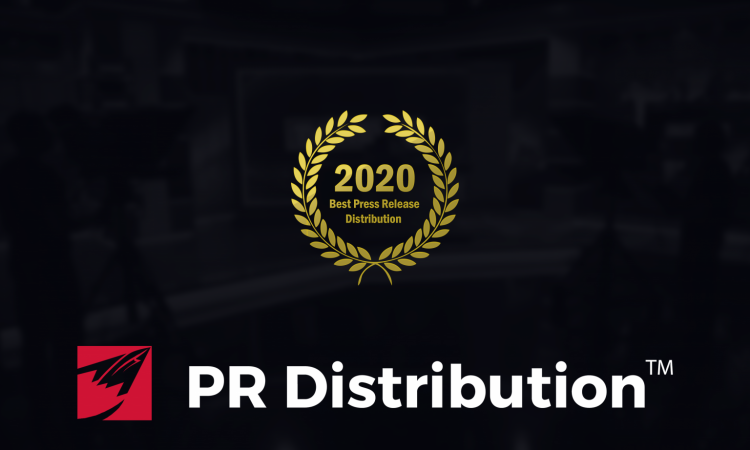 A press release is important for getting the press coverage any business requires to thrive. But, unfortunately, such media coverage doesn't come naturally – you need to work with professionals to help with your public relations.
Writing and distributing a press release to get your news picked by local journalists, influencers, or writers requires effective planning and a high-quality media contact database. No one is going to see your press release if you don't distribute it to a large network.
One of the biggest challenges that the business often faces regarding their PR marketing efforts is how to select the PR agency that works. There are several factors you can check for while choosing the best PR agency for your business, including, its national and international outreach, the price, simplicity to use, editorial support, etc.
Here is the list of seven best press release distribution services you can find in 2020 based on the factors mentioned above.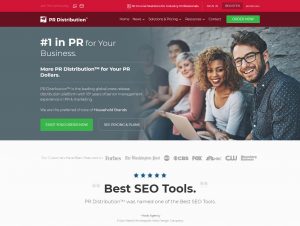 PR Distribution™ is one of the emerging press release distribution service providers in the year 2020. It has been in business for almost two decades now and owns one of the largest media contact lists in the industry. They have a variety of writing and distribution plans for businesses of all sizes and needs. Their services start as low as $49 with a PR plan and $99 without a plan. This service is great for businesses who want to test the water or need an extended outreach without breaking their bank accounts.
PR Distribution™ has its own team of writers and editors who are skilled press release writers. They can create an engaging and newsworthy press release around your story. Once the story is approved, it is sent for distribution on many premium national news outlets including Google News, Yahoo & Bing News, ABC, CBS, and Fox.
2. eReleases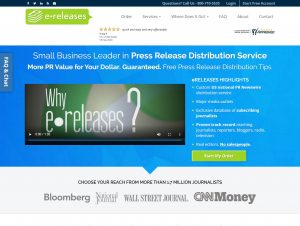 eReleases is a press release distribution service specifically designed for small businesses looking for internet visibility. It offers a large distribution even with a small budget. For an extra fee, customers can get next-day distribution and press release writing.
They own a fairly large number of news outlets and contact information of over 100,000 journalists in their database. eReleases are easy to contact as they have excellent customer support but extra features or support come with an extra fee. The word limit for a press release is limited to 400 to 600 words and there is no proofreading or editorial feedback service.
3. PR Web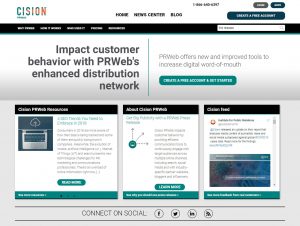 PR Web gets your press release distributed when you can't hire an in-house team of PR professionals. It was much less expensive than some of the other services. And if you can't afford to spend $1000 to issue a press release on a wire service, this can be a good choice. The interface is fairly simple to figure out and guides you through every step.
PR Web uses a strict authorization system that needs businesses to verify themselves before they will issue the release. This can slow down the timing of getting the news out and creates an extra hassle for a business that is only looking for media outreach.
4. Send2Press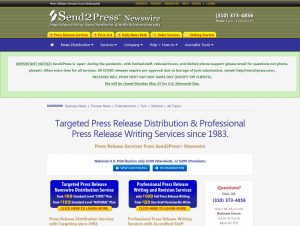 Send2Press is a press release service that was founded back in 1997 to solve PR marketing related problems of small business owners. Their prices start as low as $20. For higher-tier services, you get free proofreading and editorial support; with options to revise and finalize the draft.
Send2Press doesn't require you to pay any membership fees before you can use their service. They give small businesses with same day distribution and unlimited access to the news outlets. But the major problem lies with their slow and sometimes unresponsive customer service.
5. Business Wire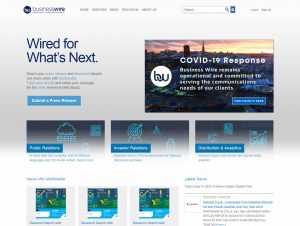 Business Wire launched in 1961, a Berkshire Hathaway company, is the recognized name in the PR industry. It has been a trusted source for media outlets, journalists, investors, and influencers for all these years.
Business wire deals mostly with clients from the financial sector. They have up to 18 newsrooms around the globe, and this ensures that your business press release gets the maximum number of hits. The only problem with this service is the cost attached to their plans. They allow a short press release containing word count up to 400 words. You need to pay extra for the additional words or any multimedia including images or videos, etc.  
6. PR Underground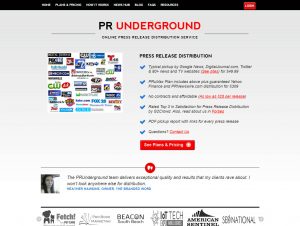 PR Underground offers one of the most inexpensive press release distribution plans to the business. The price of the PR underground distribution plan starts from a one-time $49.99 payment. However, with this amount of money you only get a post on DigitalJournal.com and social media distribution. For distribution at a larger network, you need to pay more.
With a higher-tier service for $129, PR Underground offers placement over 375+ media sites, including large networks like ABC, FOX, CBS, NBC, etc. Although there is no limit on word count or multimedia inclusion, you may not be able to upload large files on their website. Also your niche needs to be approved by the company first. PR Underground has some restrictions associated with topics that need to be published.
7. Easy Newswire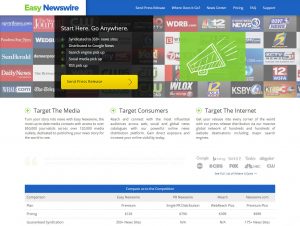 Easy Newswire is a press release distribution service provider that is known for its highly-responsive customer service. They help customers to extend their outreach by distributing news to journalists and online editorial individuals. You can also track the progress of your press release distribution through their platform.
You can register on their site for free press release distribution and can start immediately. They have a distribution network of over 4500+ sites but additional services like reporting or tracking requires you to pay more.
Conclusion
In this article, I have listed 7 best press release distribution service providers for 2020. If you still have some questions in your mind, I would recommend you to go with PR Distribution™ without any hesitation. They have solid experience of almost two decades under their belt and own one of the largest media contact databases. As compared to other companies listed above, they also offer better ROI for businesses. So, if you are looking for affordable public outreach to a massive audience, PR Distribution™ is the best choice.
You can visit PR Distribution™ at https://www.prdistribution.com, or you can check out their Press Release Pricing along with their Press Release Checklist.